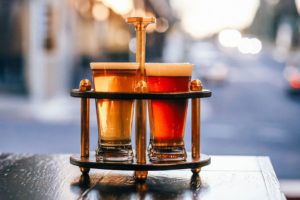 The Southern Highlands Brewing Co was established after a friendship formed in 2010 on the rugby field at the Bowral Blacks between Cameron James and Ben Twomey. Years of constructing and reconstructing the business plan culminated in the launch the Brewery in 2015.
Our Head Brewer, Cameron James, is a Highlander born and bred. Also an intrepid beer tourist, he has travelled the world in the pursuit of beer scholarship and fellowship, and honed all that inspiration and knowledge for our benefit.
Ben Twomey was in corporate finance working in London and Dubai and on returning to Australia moved to the Southern Highlands in pursuit of the next venture. The chance meeting with Camo and the love of beer inspired the concept of Southern Highlands Brewing.
The Brewery quickly established itself across the Southern Highlands in a variety of local establishments and supported some of the major events in the Southern Highlands. The acceptance and the popularity of craft beer in the regional vindicated the establishment of a retail premise and creation of the Brewery's spiritual home.
In establishing the Taphouse in 2017, the owners wanted to create a new style of beer concept and create an experience in the Southern Highlands style, with an emphasis on beer cuisine. The Southern Highland's Brewing Taphouse opened its door on November 4 2017 and is the show piece of the Brewery combing the product, place and people all synonymous with the essence of the Southern Highlands.