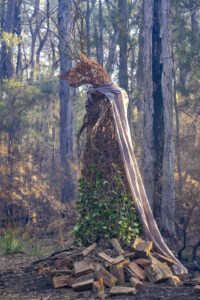 Harriet Goodall is one of Australia's best-known foraged artists and teachers of basketry techniques. She has led regular workshops in Australia and internationally for almost ten years. Working full-time out of her studios in Moss Vale and Robertson, she spends most of her time on weaving sculpture, installations and commissions. She generously agreed to design our Effigy for 2019 and introduced Penny Simons to the project to collaborate.
Penny Simons is a Maker/Artist living and working in the Southern Highlands of NSW and now a resident of the new design precinct in Robertson SHAC. She was one of the founding partners of "Cloth", a Sydney based, bespoke business producing hand printed and constructed textiles. Prior to this, Penny gained a BA hons. in Constructed Textiles, majoring in Weaving, from Winchester School of Art, England.
With support from Master Blacksmith Pete O'Meley, Luci Carney, Joanne Dodd from Quarter Acre Farm and Amanda Fry, founder Highland Harvest Feasts, the Effigy played centre stage in our ritual for 2019.