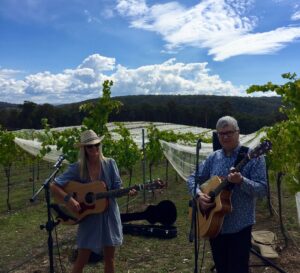 Louise Bruce began her career in Brisbane supporting artists such as Glenn Campbell, Mick Fleetwood and Tommy Emmanuel.
Moving to Sydney she then performed with Geoff Harvey  on the Highly Rated Midday Show on Channel 9 and now she calls Berrima NSW home.
Performing an acoustic gig at Wine Harvest Feast with Craig Hooper (an Australian musician who was a core member of indie rock band The Reels and was in bands The Mullanes, The Church and The Crystal Set) Lou is involved in all the Highland Harvest Feasts either singing or producing.
At Feast of the Beast she will be headlining Ella's Holiday, a band she began in 2004 in Bowral and one that is still going strong.